It was 1989. I was tall, skinny, big-nosed, low-voiced and topped off with a mullet. In short, I was an ideal looking actor… for bad non-union Lambada knock-off flicks.  I had signed with my first agent (the erudite and mischievously capricious Erika Wain) and had already auditioned for the hottest show on TV – 21 Jump Street – for the role of a high school nerd. Though I didn't get it, the casting director, Dava Waite, called me in for another role.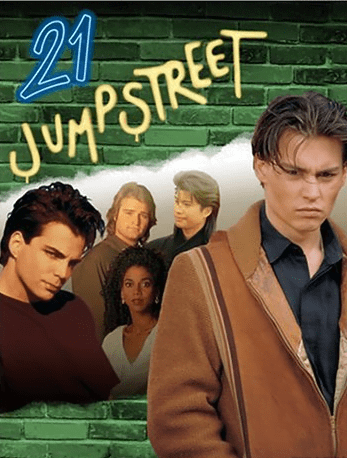 This role was for a young, "punk rock" gang leader from the 'burbs. The kind of role a young actor can get romantic about and rev up a Brando/Hoffman/Pacino self-absorption acting process.  I put crisco in my hair and donned an army surplus jacket and "Flashdance" ripped 501s. Applied eyeliner (which added sexy to my evil/Lambada persona) and didn't shave for 3 days (which added a barely visible peach fuzz menace).  Oh yeah, I was gonna bag this baby. And it would be my first TV gig and I would get a coveted SAG card…
After my audition, Dava was so impressed that she called me a chameleon and gave me a callback on the spot.  A few days later I was back to read for the producers.  But before I went in, Dava pulled me aside to give me a few acting notes. Then she whispered as she got up from the chair, "You'll do great.  And I wanna be the one who helps you get your SAG card!"
That was the first time anyone who was actually in the industry ever told me I was worthy of being in it. It was a huge moment for me.
The callback went well.  However, this was a large guest star role so a second callback was in order. It was down to two of us!
I doubled my crisco and eyeliner. I hadn't shaved in a week and I was getting a "Peanut's Pig-Pen" chin. I was crossing fingers and toes. I went into full superstition mode.
Was that my favorite Moody Blues song on the radio?  They NEVER play Moody Blues!  I'm gonna get this role.  I'm on the right path.  A series is right around the corner.
Yes, I was so far gone even Shirley MacLaine would've slapped some sense into me.
Alas, after the second callback on the top floor of the Stephen J. Cannell building on Hollywood Blvd, I was not destined to go toe-to-toe with Johnny Depp.  In fact, neither of us were.  A Canadian got the part.  These were the days when TV production went north and Canadians got all our roles.  Before we started importing hot looking Australians who could do passable American accents.
A year later I was Taft-Hartley'ed into the union because my mullet also spiked up nicely.
A year after that, having still not booked a union TV or film role, Dava Waite called me in (direct to a callback) for a small role on ABC's COACH.  When I walked into the room, she was as warm and familiar as if we just saw each other the week before.  After I read, Dava talked me up in front of the producer and a day later I had officially booked my first union TV role as a guy with a mullet at a party.
It was also the first time I would learn about being cut from a show before it airs! [Read Cutting Room Floor.]
That was 1991.  Many years passed and I ran into Dava once or twice at acting workshops.  My career ebbed and flowed in ever larger circles as my roles required ever shorter hair and smaller noses (or so I told the plastic surgeon).  There was a period of time when I was getting guest star roles and films where I would work a week or more.  And then two wars and a financial meltdown changed the industry.
Yes, torture is bad, but I really blame Bush for the New "Hollywood" Normal. These days, celebrities are "upside down" in their careers so power agents and producers have implemented a "trickle down" casting system.  With less work, all the stars have moved into guest star roles and the actors who used to get those opportunities now "trickle down" to smaller roles, etc.
And that's what brought me into Dava Waite Peaslee's office last week.  A funny one line role on FOX's hit show, "Raising Hope," with Martha Plimpton and comedy Goddess, Chloris Leachman.
In the years since Dava's first casting job on "21 Jump Street," she has amassed an incredible amount of credits, many nominations (including an Emmy nomination for "Weeds") and she won an Emmy for her work on "My Name Is Earl."
Dava is still as warm, friendly and open as always.  After a very fun audition, I couldn't help over-sharing about what she had meant to me twenty years earlier and giving her hug, something one should never do in an audition.  But I had a nice suit on and had showered an hour earlier so it wasn't too offensive for her.  (Actually, it seemed to be a truly organic moment that happened before I could quash the instinct.  And, after all, life is short; share the good thoughts and feelings while you can.)
I did feel a little sheepish about a career arc that had brought me back to auditioning for 1 line roles, but I was also secretly buoyed by the fact I had a screen test for a series regular role on a Disney sit-com coming up soon — one of many opportunities I am still around for because I stayed in the game.
And that persevearance is a byproduct of a self-confidence that can be traced back to a brief moment at the Stephen J. Cannell building in 1989.  A moment when a kind, young casting director changed an insecure young actor's perception of himself with a simple and selfless gesture…
Thanks, Dava. Ah, hell, now I wanna give you another hug.
[This is part of a series – Love Letters.] 
[Post was conceived before I booked "Raising Hope" and published afterwards without any ulterior movtives (this is how we sentimental nerds roll). My episode should air sometime in December.]