As a fry cook at several fast food restaurants while in high school, I prided myself on finding a groove within my duties.  I became so quick and elegant in my dunking of the taco shells and filling of the cokes, that I thought myself a kind of dancer.
When I used to be a book keeper back in the late 1980's, I was surprised to learn that there was an artistry to numbers.   One could find patterns in calculations, a language in equations and the one-with-the-universe euphoria when finding that errant .33 cents when reconciling.
No longer did I think art was relegated to certain mediums.  It seemed to me (and still does) that there is an artistry to be found in anything one does – if they look for it.
So when Los Angeles began it's war on gang graffiti, I was of two minds; yes, stop the spray paint urination of territorial marking, but let some of that beautiful calligraphy breathe!  Of course, as a pampered white boy (as in I could get student loans, apartments and jobs easier than other races and sexes, plus I never ventured south of Wilshire Blvd.) I was unaware of the burgeoning street art scene.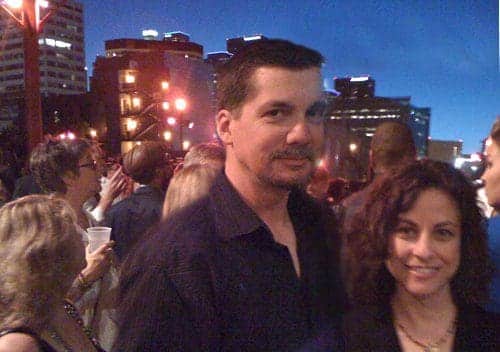 Last weekend my lady and I were lucky enough to get free passes to the opening of the MOCA Art In The Streets exhibition.  Though way too crowded, we did see some amazing things.  Unfortunately, because of the chaos, we weren't able to get the names of the various artists, but I thought I'd share some of the works I liked.
This one, by Bansky of London, England, was my favorite: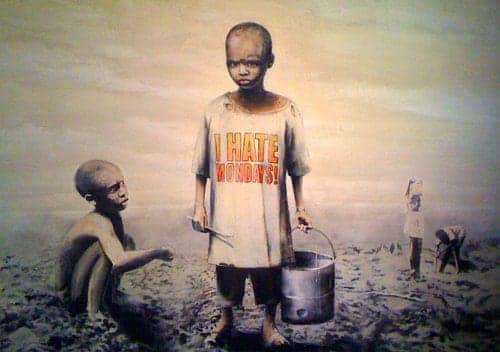 I was tickled when I ran across the Andre The Giant section by Shepard Fairey.  If you lived in Los Angeles in the late 80's, you'll remember these: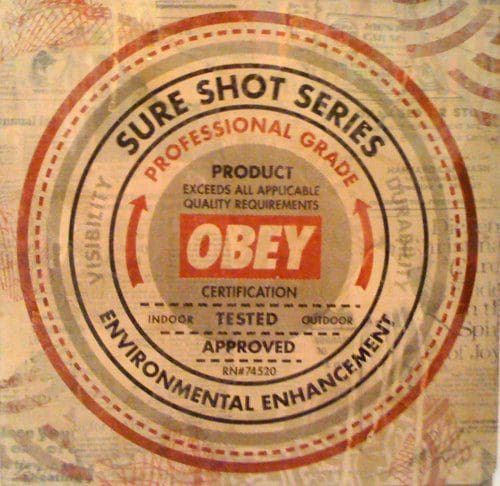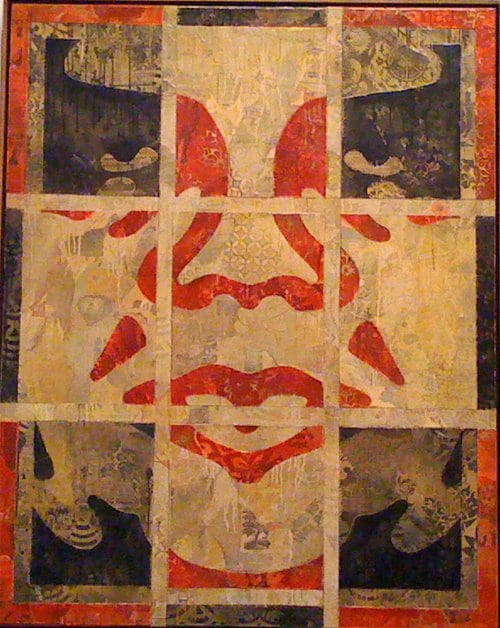 It turns out that my lady works with the wife of Robbie Conal. His street posters were everywhere during the Iran-Contra scandal. It was also the beginning of my political awareness – thanks in small part to his guerilla art campaign.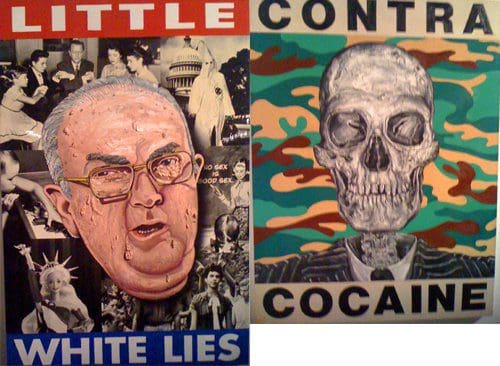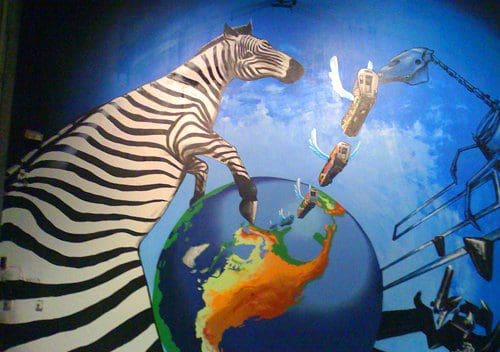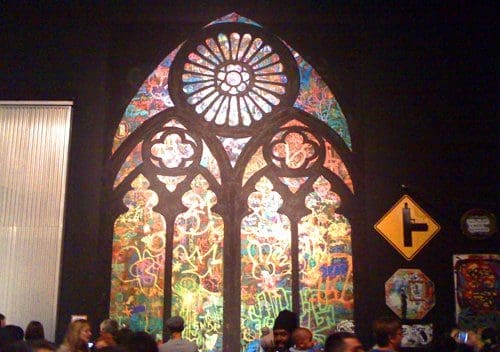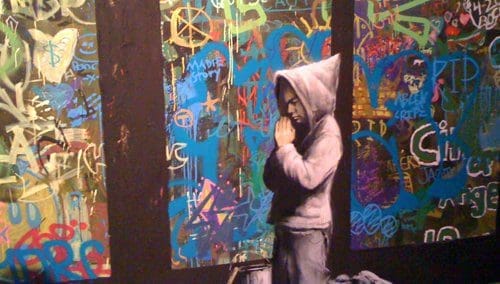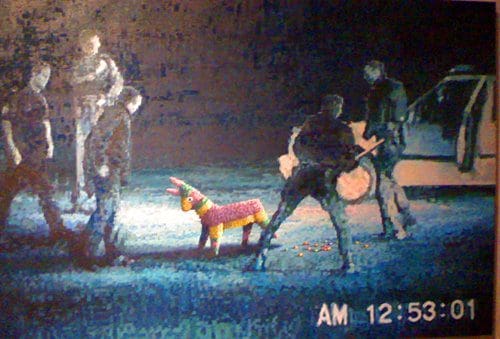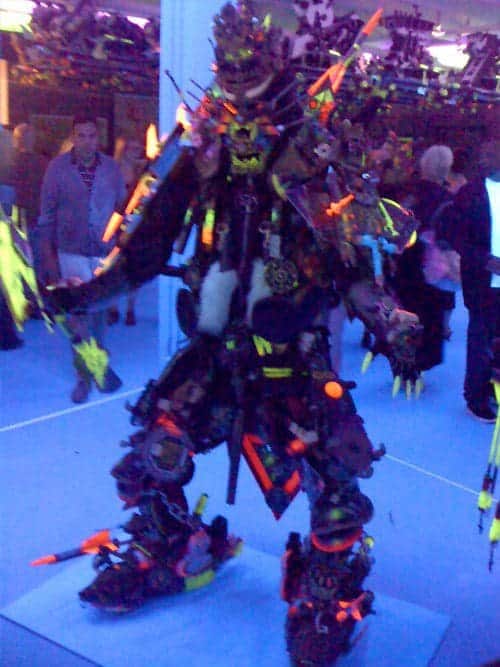 This next one was made of paper!  Yes, PAPER!  And was at least 24 feet high: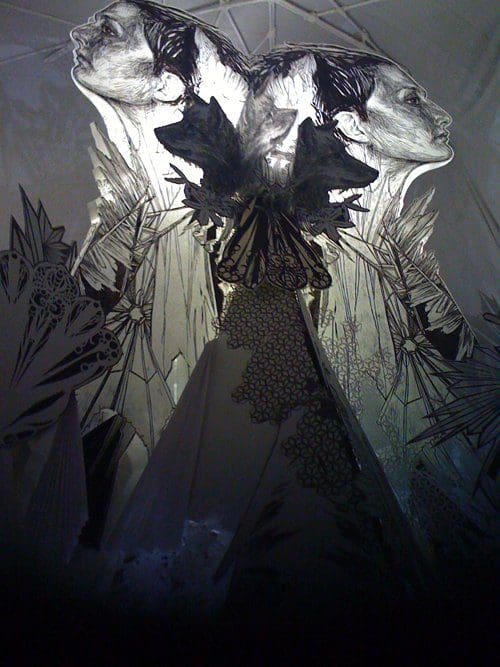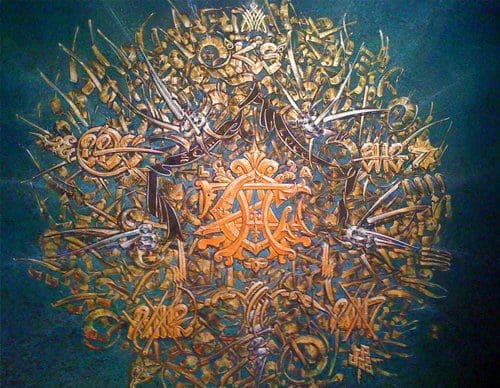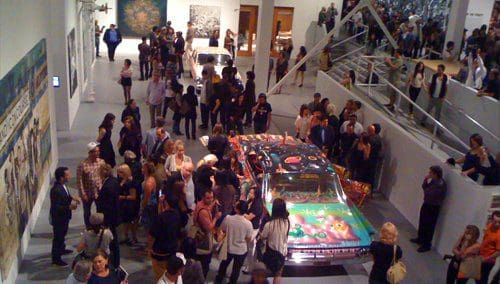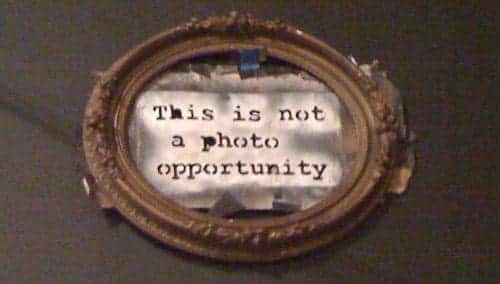 There was so much more I didn't get a chance to snap a picture of.  If you are in LA or will be here between now and August 8th, 2011, come check it out!
Here's more info:
THE MUSEUM OF CONTEMPORARY ART, LOS ANGELES (MOCA), PRESENTS THE FIRST COMPREHENSIVE U.S. MUSEUM SURVEY EXHIBITION OF GRAFFITI AND STREET ART

APRIL 17–AUGUST 8, 2011 / THE GEFFEN CONTEMPORARY AT MOCA

LOS ANGELES —The Museum of Contemporary Art presents Art in the Streets, the first major U.S. museum exhibition on the history of graffiti and street art, April 17 through August 8, 2011, at The Geffen Contemporary at MOCA. The exhibition will trace the development of graffiti and street art from the 1970s to the global movement it has become today, concentrating on key cities where a unique visual language or attitude has evolved. Following MOCA's presentation, the exhibition will travel to the Brooklyn Museum, where it will be on view March 30–July 8, 2012.

Art in the Streets will showcase installations by 50 of the most dynamic artists from the graffiti and street art community, including Banksy (London), Fab 5 Freddy (New York), Lee Quiñones (New York), Futura (New York), Margaret Kilgallen (San Francisco), Swoon (New York), Shepard Fairey (Los Angeles), Os Gemeos (São Paulo), and JR (Paris). MOCA's exhibition will emphasize Los Angeles's role in the evolution of graffiti and street art, with special sections dedicated to cholo graffiti and Dogtown skateboard culture. The exhibition will feature works by influential local artists such as Craig R. Stecyk III, Chaz Bojórquez, Mister Cartoon, Robbie Conal, RETNA, SABER, REVOK, and RISK.

A special emphasis will be placed on photographers and filmmakers who documented graffiti and street art culture including Martha Cooper, Henry Chalfant, James Prigoff, Steve Grody, Gusmano Cesaretti, Estevan Oriol, Ed Templeton, Larry Clark, Terry Richardson, and Spike Jonze. A comprehensive timeline illustrated with artwork, photography, video, and ephemera will provide further historical context for the exhibition.

Art in the Streets will feature several shows within the show. There will be a special section dedicated to the Fun Gallery, which connected New York graffiti artists with the downtown art community in the early 1980s. Co- curated by gallery founder Patti Astor, the Fun Gallery installation will feature the work of Keith Haring, Jean-Michel Basquiat, and the graffiti artists who shaped the gallery's history. A section dedicated to the seminal film Wild Style (1983), co-curated by the film's director Charlie Ahearn, will document its influence on the global dissemination of graffiti and hip-hop culture. The exhibition will also feature a memorial presentation of Battle Station, a rarely seen work by legendary artist and theorist RAMMELLZEE, and a display of graffiti black books and other historic works from the Martin Wong Collection presented in collaboration with the Museum of the City of New York. A highlight of the exhibition will be a Los Angeles version of Street Market, a re-creation of an urban street complete with overturned trucks by Todd James, Barry McGee, and Steve Powers.

The exhibition will open with a skate ramp designed by pro-skater Lance Mountain and artist Geoff McFetridge. Skate demonstrations by the Nike SB skate team will be held on Thursday and Saturday afternoons.

"Art in the Streets will be the first exhibition to position the work of the most influential artists to emerge from street culture in the context of contemporary art history," said MOCA Director Jeffrey Deitch.

"This quintessentially urban and dynamic partnership between the Brooklyn Museum and MOCA began with the 2005 Brooklyn-organized exhibition of the work of Jean-Michel Basquiat, the consummate American street artist of his generation; continued with the MOCA-organized ©MURAKAMI in 2007, defining critical elements of worldwide street art; and now culminates with a groundbreaking exhibition devoted entirely to street art and graffiti," said Brooklyn Museum Director Arnold L. Lehman. "The partnership has, in itself, provided a major record of public art over the past half century."

Art in the Streets is organized by Jeffrey Deitch and associate curators Roger Gastman and Aaron Rose. Gastman is the author of The History of American Graffiti, which will be released in April 2011, and was a consulting producer on the film Exit Through The Gift Shop. Rose curated the exhibition Beautiful Losers and directed the related documentary film. Ethel Seno, editor of Trespass: A History of Uncommissioned Urban Art, is the curatorial coordinator of the exhibition. The Brooklyn Museum's presentation will be organized by Managing Curator of Exhibitions Sharon Matt Atkins.