There is a character I voiced in five video games that I owe a bit of gratitude.  Albert Wesker.  A slicked back blonde haired fellow with a penchant for global domination.  The games were all part of the "Resident Evil" franchise.  What did Albert do for me?  He endeared a hitherto unknown actor to a niche fan base.  A very enthusiastic and committed fan base.
And that, in turn, landed me a movie gig.
I didn't think it was serious when a lovely lady, who went by the name of Roxsy Tyler, posted on my Facebook fan page that she wanted to get me into a movie her husband was doing in Philadelphia.  And, if so, what kind of film?  A dude with an iPhone and a general script idea of zombies eating flesh in front of a White Castle?
Yes, after all these years, I've become a tangy shade of bitter.  But then her husband, Christian Jude Grillo, sent me the script and offered two possible roles with varying time commitments.  Naturally, I gravitated to the serial killer role since I usually would be cast as his lawyer.  I read the script and was surprised and intrigued.  So I looked up this Grillo fellow.
Turned out, he was the real deal.  His first two films had distributors and he'd worked with Christopher Mann, Ernie Hudson and "Pinhead" Doug Bradley. Okay.  Lookin' good!  Once they negotiated with my agent and a date was set, I knew it was really going to happen. Now I was free to get into the role!  An actor at my level doesn't get the chance to spend 6 months preparing.  I usually audition, get cast and am on set within a week.  This was exciting.
The character was Adrian.  A narcissist serial killer with OCD.
First thing I needed to do was get the body of a narcissist.  I had gone middle-age  soft.  So I started up with my old trainer, Charles Martinez, 4 days a week.  We spent 3 months bulking up to 214 pounds (at the peak I shot "Dog With A Blog" for Disney – so when it airs, don't laugh about how swollen I am).  Then cutting back down to 183 by the shoot date.  My body fat went from 26% to 20%  (still working on it, man – Appletinis)!  The irony being that I had now become a narcissist, as well. (Hence, the following image!)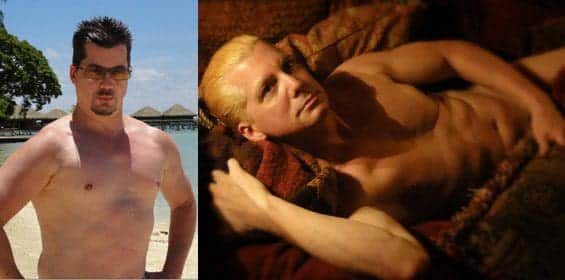 Days before, as a nod to the character that brought me this opportunity, I died my hair and eyebrows blonde and got a "sculpted" spray tan (apparently you have to be naked while a 20-something LA girl paints you and tries to talk about anything but your shriveling package).

Even though I had Lasik surgery 10 years ago I still got a prescription so I could buy non-prescription contact lenses.  I wanted Adrian to have one blue eye a la David Bowie.  Was I having fun?  Damn straight.
Then off to Philadelphia I went!
Christian and his wife, Carmella aka Roxsy Tyler, picked me up in a creeper van that had cage bars on all the windows.  Oddly, the seat was bouncy and there was lots of leg room.  So, even though it appeared I was being kidnapped for a week of torture, the ride was as comfy as a limo on a physics level.
I had a day to acclimate and went to Christian and Carmella's home to see the dailies of what they'd already shot – which was the rest of the film (and includes Lloyd Kaufman, Michael Berryman and Tom Atkins).  This final week was all Adrian's stuff.  I was blown away by how beautiful the images were.  For a low budget indie in philly, these guys shouldn't be able to do this.  But Christian is quite talented and so is his team.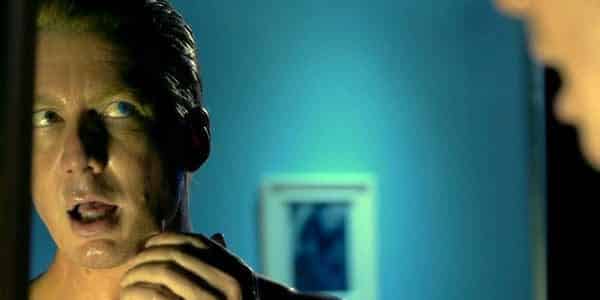 I also got a better grasp on the style.  Essentially, "Apocalypse Kiss" is a sci-fi thriller Buck Rogers meets 70's sexploitation meets 80's new wave meets noir slasher melodrama… Yeah, it's a mind f$@%.  Strangely, I knew then how to play the character.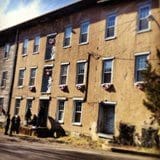 The majority of the movie was filmed inside a 3 story 100 year old mill.  They actually built their sets there and then would take some down and put up new ones.  There is even an outdoor set inside!  Again, they shouldn't be able to make this work, but they do! (There are low budget productions in LA who have quadruple the resources/experience and still can't capture the images this group does.) And they do it with smiles and camaraderie, making newcomers feel comfortable.
So, how comfortable did Christian & crew make me feel?  So comfortable I offered to shoot my workout scene naked (just my better, less spray tanned side).  Yup, my first feature film butt shot.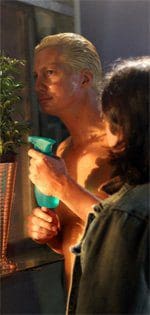 In fact, the whole crew was a joy to work with.  I could list through all their names, but then I'd be an ass if I missed one – and I suck at names!  But there is one that I have to mention: Leonard Pollack.
Leonard was the entire wardrobe department.  He's a very artistic and chatty fellow with contagious manic energy.  When I discovered that he had worked on The Who's "Tommy" I fan girled.  He did an amazing job on this film with the limited budget he had.  It was impressive.
Many of my scenes were either alone or with someone in a hologram so I never got to actually act with them.  But the actors I did work with were lovely.  My arch nemesis, Tom Detrik, the bubbly Tammy Jean, theatre pro Natasha Piletich, and, of course, Carmela Hayslett (Roxsy Tyler).
Carmela was a pro and had crafted an "apocalyptic" character to embody the themes.  Off-camera, she was my crutch.  Christian writes long, interesting dialogue scenes, so Carmella helped me learn each scene before we shot.
My week in Philly went by fast and I met so many kind, funny people.  They seem to have a core group that support each other with various productions.  I can only hope I get to become part of their acting repertory.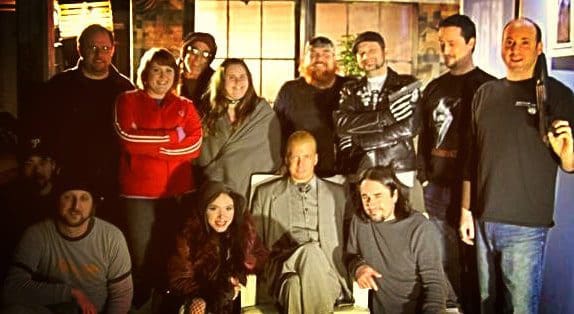 As for my actual acting, I'm not sure if I go too crazy in this film (I get hungry for scenery), but my soul had a wonderful artistic meal.  And I have to thank Carmela Hayslett/Roxsy Tyler for liking a voice actor enough to learn more about his career and bring him such a lovely opportunity.  You rock, Carmela!
The film is in post production now and will require a lot of visual effects (giddy 12 year old in me is jumping up and down), but we may start to get glimpses before 2014. I'll be sure to share.  Until then, here's something for the Wesker fans:
Some more pictures, one of which may harm your retinas…