So, um… Here goes… Uh… so, you know, how are ya?
Who am I kidding? Writing blog posts was supposed to help my Google rankings years ago and it never did. Then it was therapy for my Tea Party hangover. Then it was to feed the social media beast. Now it's just kind of redundant considering the 350 followers of this blog also follow me with the other 20,000 strangers on Facebook & Twitter.
But yet, I feel a kind of nostalgia.
So, today's post will be a wrap up of 2015 and a preview of 2016 for all of you who pity me enough to read and have memory issues with social media. 😉
---
Two Thousand Fifteen
The year started off with the airing of my "Haunted Hathaways" performance. A fun role not many saw since the show got cancelled right after. I'll take the blame.
By far my biggest joy this year was recording a surprise full 4th season of "Transformers: Rescue Bots!" It's rare cartoons get over 3 seasons anymore so I was ecstatic (aka able to pay down credit cards)!
I have been wanting to do more anime to please the Anime Con circuit and two people came to my rescue! First, the luminous Mary Elizabeth McGlynn cast me in a quick three episode arc as Gari in "Naruto!"
Then Joel McDonald heard my plea while we were both guests at a con and hired me for one of the Supernovas on "One Piece!"
I also revisited my "Tweaking Nipples" penchant (with the help of collaborator Rachael Leone) after being inspired by a tweet from Anne Thériault.
Sometimes one of my home voiceover clients will discover that I am also a film and TV actor and offer me on-camera stuff. Though I stopped going out on commercials 12 years ago in order to save my soul from decay, being offered commercials is a whole different story! Filmed these in a day in Pittsburgh, PA this year.
My "Sharknado" benefactors were kind enough to cast me in the SyFy hit "Z Nation" this year. Partly because they felt bad Bud died in "Sharknado 2," and partly because you "Resident Evil" fans have made me a desirable commodity with zombie related projects (bless you)!
I had another fun year of traveling to anime and video game cons around the country. I never thought my appeal would last this long which is why I literally just joined mileage programs last month! Highlights of my con experiences have to be Youmacon (as always), DragonCon (OMFG), and a surprise last minute booking for MCM in the UK last month.
And games I recorded earlier this year have started to come out, allowing me to shun the lawyers and claim ownership of my roles!
And the one that will NOT win me a GLAAD Award…
That wraps up what has been released for 2015 (I think), but a few things I worked on in 2015 come out in 2016. So, shall we?
---
Two Thousand Sixteen
The first week of January you'll get a Standard Doctor Performance™ from me on "The Bold & the Beautiful" over two days. I play a doctor who says doctor things to really pretty people.
Later in January I fly back to Pittsburgh to film more Molyneaux commercials.
Hopefully this is the year a few of the indie films I did get some distribution. I filmed "The Shickles" in 2015 but "KILD TV" was in the summer of 2014. Both may be popping up on your TV in 2016!
In addition, I filmed smaller roles in two wild-ride films. "Ribbons," starring Brian Krause, and "Smartass," with Joey Lawrence, will be playing the festival circuit in 2016.
There is a rumor that I will be returning to "Z Nation" in 2016! And definitely returning to "One Piece" when they get around to the additional episodes to dub…
Season 4 of "Transformers: Rescue Bots" begins airing and at one point we will know if a season 5 is going to happen! (So watch the show and buy the damn toys, people!)
I also booked a recurring role on the amazing "Regular Show" on Cartoon Network! Very excited by this character. It's a fun show to work on and already I have a few memorable additional roles, too. Should start airing in the Spring of 2016.
As usual, there are a few more video games coming out that I can't say a word about, but one of them is a fantastic role in a very popular title with a very small, but fervent fan base niche. All I can say is that, on a scale from 1 to 10, it's a "zero…"
I already have several cons lined up for 2016 (see my schedule here, as well as booking info for you con chairs). If we're lucky, though, I have put together an amazing panel for the 20th Anniversary of Resident Evil. We shall see who books it first…
But the two things I'm most excited about for 2016 were completed in 2015.
First, a film concept I pitched to The Asylum a couple years ago finally went into production! I play the third lead opposite Joey Lawrence and Maryse Mizanin in a zombie film that tips its hat several times to "Resident Evil" video game fans.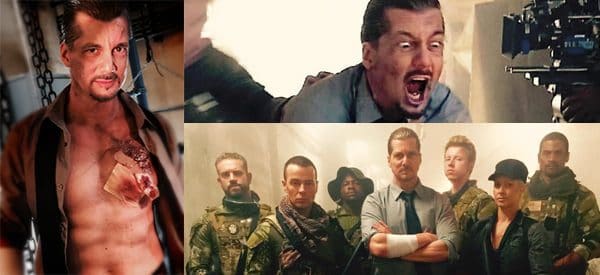 It's in post now and will hopefully be airing on SyFy in the Spring or Summer (as either "XP-573" or "Isle Of the Dead")!
And second? My own little passion project. A 5 minute short that Rachael Leone and I concocted, starring Lacey Chabert and Liam O'Brien! Aside from Lacey, the film features the voices of 12 "Resident Evil" alumni!
"Ginger & Snapper" will be playing festivals throughout 2016!
So there ya go! My 2015 & 2016 round up. I hope you enjoyed it.