It's messy.  It's expensive.  And it's intoxicating.  Making art for yourself, that is.  Recently, a reader asked if I had ever written anything aside from this blog so I sent him to my production website to watch the last short I made in 2005.  He seemed to really enjoy it.  And then it hit me;  Perhaps you guys would, as well!
But first, to justify posting an entry, I must give you a little background.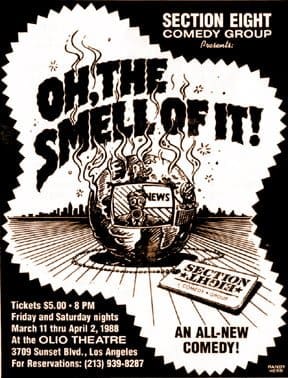 Hit-The-Fan Productions was started around 1988 when I produced my first show, "Oh, The Smell Of It!" at the now defunct Olio theatre in Silverlake.  Our improvisation group (Section Eight) had decided that we might be funnier if we just wrote the damn scenes.  After that show, I used the name whenever I produced any show I was in or had written.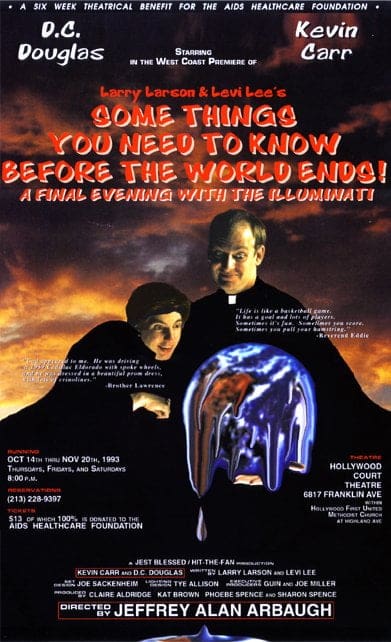 In 1992, I used the banner to produce a 90 minute one-act I wrote  – "Artistry Of Hell – A Psychic Stripper's Odyssey Through Dreams, Drugs And The Streets Of San Francisco"  starring Carolyn Lowery, Stacey Havener and Sarah Lilly.  It became a cult hit with 12 people and confused many more!
In 1993, I used it again (along with an inheritance from my Grandfather – Joe Miller – another post for the future) to produce Larry Larson and Levi Lee's "Some Things You Need To Know Before The World Ends – A Final Evening With The Illuminati" at the Hollywood Court Theatre.  (Oh,  yes, I do like long titles, thanks for noticing.) It starred the amazing Kevin Carr and myself.  I donated 100% of the proceeds to the AIDS Healthcare Foundation… Of course, If I had just handed over the inheritance directly, they would've gotten more money!  Live and learn.
In 1996 I switched to film because I was tired of people saying, "Oh, your show closed?  Wished I could've seen it…"  With film, they will be forced to see it eventually!  The result was "Falling Words," about a psychic sociopath looking for his soulmate.  It stars J.J. Rodgers, Tom Jourden, Jason Oliver and Chayse Dacoda.  Though rough in spots, it is still an entertaining flick. [Trailer below]
In 1998, I joined forces with Reagan Wilks and Noah Levine (Eleuthra Productions) for "The Eighth Plane," an anti-Scientology short that parallels their doctrine. (We were a little scared they'd sue us… Or kill us, so we changed the title of things – i.e. Operating Thetan 8 became the 8th plane.)  It's more of an exercise in shooting with one location. [Trailer below]
In 2000, I wrote and co-directed "Freud And Darwin Sitting In A Tree" starring Jamie Donahue, Reagan Wilks, Chayse Dacoda and the late, great Pamela Gordon.  This one is fun, though it does get a bit pedantic.  Still, I'd say it's worth a viewing if you're not too conservative. [Trailer below]
But the one you should really go and check out is "Duck, Duck, GOOSE!"  Shot in 2005 and featuring some great performances and a wonderful soundtrack.  The film includes Robin Daléa, Bryan Cuprill, Lisa Long, Bess Meyer, Dan Butler, Michael Cade, Courtenay Taylor, and Diane Mizota. I wished I had pursued distribution for it after it's successful festival run, but 20 minute comedies have a hard time finding homes. [Trailer below]
In 2006, Hit-The-Fan went back to the stage for a two-night only charity performance of "Lance Baxter: Halfway Through My Life (If I'm Lucky)" at the M Bar in Hollywood.  The proceeds went to More Than Shelter For Seniors.  It was an evening of original songs and monologues decrying/celebrating the aging process.  Oh, and it was my birthday party, as well!  More clips can be seen at the Lance Baxter Website. [Men Of The World Song below]
Our latest project is just finishing up it's festival run. "The Crooked Eye" took three years to make and cost twice as much as all previous HTF productions. It stars Fay Masterson, Katherine Boecher and Linda Hunt.  It's a gem and I hope to find it a distribution home within the next year. [Trailer below]
But the purpose of this post is to direct you to "Duck, Duck, GOOSE!"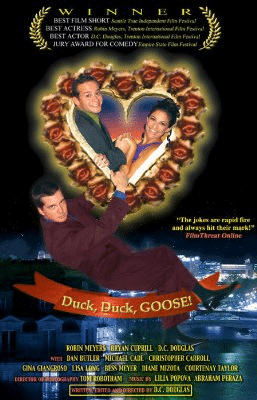 DUCK, DUCK GOOSE!
Not only will it make you smile, it'll make me smile.  And we all know what that means… Endorphins for everyone, baby!
UPDATE:
"The Crooked Eye" is now available ONLINE!
* * * * * * * * * * * * * * * * * * * * * * * * * * * * * *