They don't call it MegaCon for nuthin'!
Now, I've been to Florida cons several times in the past year (apparently the state and I are having an affair) but none of them can hold a candle to the enormity of this con.  Their attendance was estimated at over 50,000!
Even among that many con-goers, I still ran into fans I had met at other cons.  And they were still as excited to see me, as I was them.  As for the new folks I met, it included my first breast signing and my first breast puncture!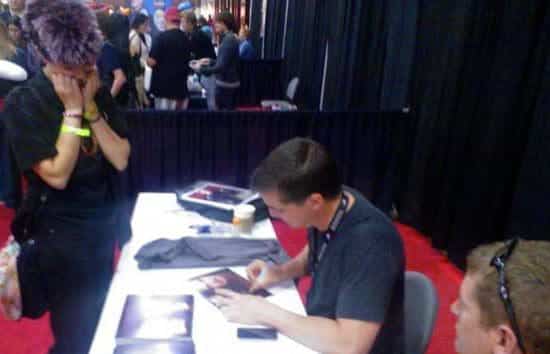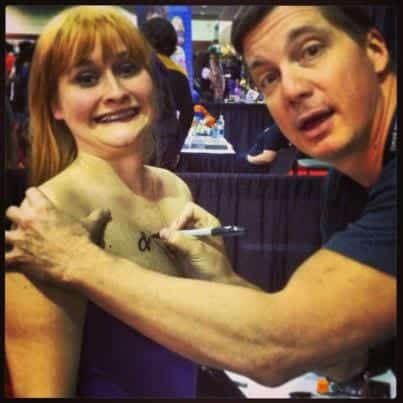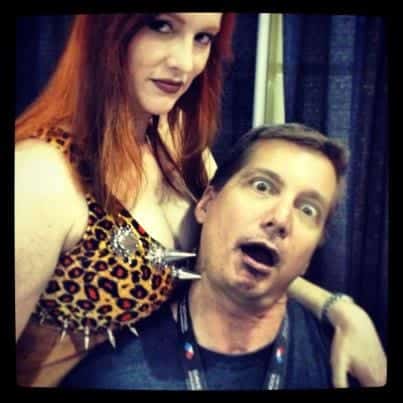 The con had put us voice actors up at the DoubleTree down the street.  Fine hotel, but they were having another convention!  A Florida statewide school technology thing-a-majig.  So, 100s of kids dressed in school uniforms wandering around the pools, fountains, and tropical foliage, it was like walking into a wedding for munchkin strangers.  Not quite the relaxing splendor of AFO's hotel experience of 2012.
Side note: why does the water in Orlando smell like Satan took a piss in it?  Just curious.
Back to the con!  I spent my two and a half days primarily around my manager, Jeff Zannini, the lovely Cristina Vee, the hilarious John DiMaggio and the insane Billy West… Yes, I feel your jealousy.
Watching Billy West and John DiMaggio together in the green room is an abstract journey through comedy.  They have such a wonderful rapport with each other and their combined talent blows my career pretensions away, leaving a lucky commercial announcer who did a few video games cowering in the corner, updating my twitter status.
Jeff Zannini put together another one of his special screenplay reading panels. This time it was "The Lord Of The Rings." For some reason Tara Strong wasn't able to come to the room for the event so last minute cast changes ensued. Adding to the craziness were intermittent blackouts and hearing Cristina do characters I'd not heard before:
My signing table was smack between Cristina Vee's table and Vic Mignogna's hair.  I have to say, watching the throngs camping out at Vic's table inspired me to get a huge banner like his with my face on it… and maybe inspire a national cult so I can do more cons.  (I do love to travel!)
I had met Cristina a few times before and always enjoy her sly humor and sweetness.  This weekend provided us with a few picture opportunities, to boot!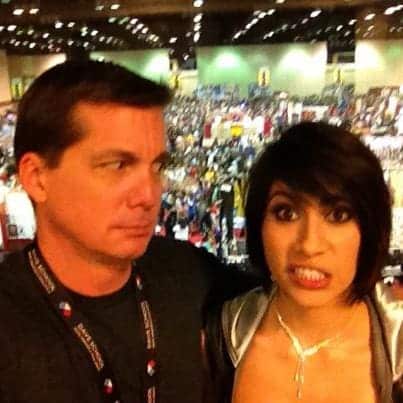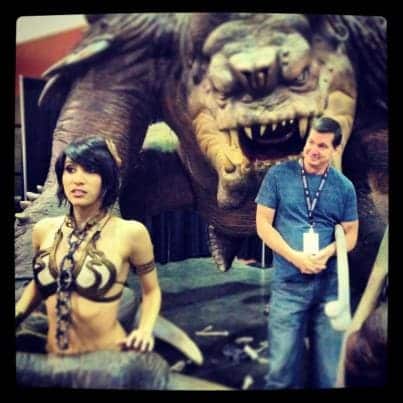 I also had a few surprise run-ins.  LeVar Burton was there as part of the "Star Trek: The Next Generation" roster (he and I are on The Hub's "Transformers: Rescue Bots") so I grabbed a hug from him before I was drenched with other con-goer sweat.  (Love hugging fans, but, well, biology happens…)
Then there's the lovely Ellen Dubin ("The Collector," "Lexx").  I knew Ellen back 15 years ago when I used to edit actor demo reels in between my acting gigs.  Always a sweetheart and hadn't changed a bit.  Checking her extensive picture offerings gave me another kick in the butt to expand my measly 4 picture menu.
To drive the point home, a British fellow came over to me with a glossy picture of me on the set of "Star Trek: Enterprise!"  I signed that sucker and vowed to add that one to my picture offerings at future cons.  (Proof is below!)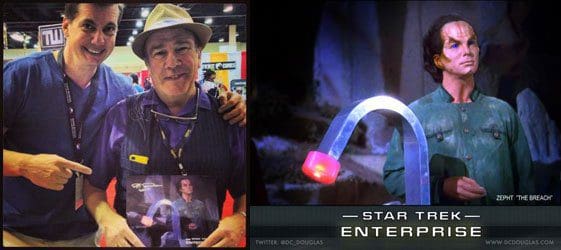 After hours I crammed in lots of drinking, a few lovely meals and some live music at The Pub and House of Blues.  I also was lucky to run into Karen Trudeau and John Reiss who run AFO (Anime Festival Orlando). I tried to behave my best as I hope to be invited back to their con. They really create a warm environment.
For as many hours as I put into the signings, panels, and hugging, MegaCon still zipped by. Before I knew it I was back at the airport, flying home.
I wanna thank all the fans who came out to say hi. I am still blown away by your kindness and devotion.
Now on to New Mexico April 5-7 (tentative)
Washington DC April 19-21 (TBA)
Salt Lake City May 10-12 (SaltFest)
Orlando June 1-2 (KnightroKon)
Miami July 6-8 (TBA)
Tampa July 26-28 (MetroCon)
But first? I fly to Philadelphia, PA, to shoot the soon to be cult hit, "Apocalypse Kiss!" Be sure to check in with FaceBook and Twiiter as I evolve into a serial killer named Adrian…