Okay, Los Angeles based fans! Here's your chance to meet me in person without having to run into me at the store and me possibly thinking you're a stalker!
David Dean Bottrell is a very talented writer, actor and producer in LA. (He was also my workout partner in the `90s!) He asked me if I'd like to host a fundraiser for a high school science department. I jumped at the chance.
But now I need to show him I have a little pull with YOU peeps! Please buy tickets NOW and then come on down May 16th for the show! (You may find me at the bar next door afterwards… but I'll only be talking to ticket holders who also donated a few extra bucks at the door… Yeah, I'm a manipulator for charity.)
Tickets are only $10 online, but ALL box office proceeds (and any additional donations received that day) will be awarded to the winner's high school science department.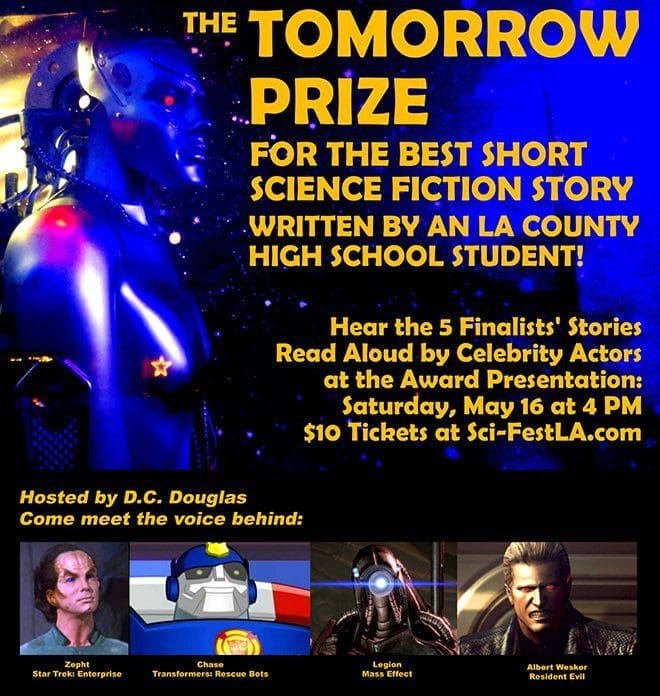 Join us!
Awards Presentation:
THE TOMORROW PRIZE
Presented by Sci-Fest LA
for Best Short Science Fiction Story
Written by Los Angeles Area High School Student!
4: 00 PM Saturday, May 16th
Join us as we the five finalist stories are read aloud by our amazing cast of actors!
Followed by the presentation of the Tomorrow Prize!
Our finalists:
"Freedom" by Ashley Anderson (Port of Los Angeles High School)
"An Occurrence at the International Space Station" by Erica Goodwin (Pasadena Polytechnic)
"Chance" by Janeane Kim (Fairfax High School)
"The De-Evolution of De-Vices" by Ruby (Cholong) Park (Fairfax High School)
"Fixing Yesterday" by Athena Thomassian (Fairfax High School)
Hosted by D.C. Douglas
Our amazing cast of Readers includes:
Kevin Chamberlin ("Bertram" on Disney Channel's hit TV series, "Jessie")
D.C. Douglas (Voice of "Albert Wesker" in "Resident Evil" & "Legion" in "Mass Effect")
Anna Maria Horsford ("Amen" & "The Shield")
Madison McLaughlin ("Major Crimes")
Jasika Nicole ("Scandal" & "Fringe")
JUDGES
Joshua Dysart
Joshua Dysart is a multiple Eisner Award nominated, Glyph award-winning, New York Times Bestselling comic book writer and graphic novelist. His work has been reviewed and discussed by the BBC, CNBC Africa, The New York Times, the Huffington Post, and elsewhere. He has done work for DC Comics, Vertigo Comics, Darkhorse Comics, Random House and others. His works include The Unknown Soldier and Greendale, and he's written for Swamp Thing, Hellboy, Hellboy spinoff B.P.R.D., Conan, and, currently, Harbinger.
Julia Gibson
Julia Mary Gibson was a garage animator in Vermont before relocating to Hollywood, where she worked on the visual effects teams of such sci-fi classics as Android, Galaxy of Terror, Escape from New York, andThe Abyss. Her debut novel, Copper Magic, is a mystical fantasy about the magic of nature and the nature of magic. It is a finalist for the Baltimore Science Fiction Society's Compton Crook Award.
Rosalind Helfand
Rosalind Helfand is a writer and organizer in LA's literary community. She's the Managing Editor of the online literary journal and educator's resource, Literature for Life, a Co-founder of Lit Crawl LA: NoHo, and the Co-founder and former Director of the West Hollywood Book Fair. She curated the "A Night of Spooky Storytelling" series at The Last Bookstore and The Last Bookstore's Indie Shelves Initiative. And, she's coordinating SCI-FEST LA's science fiction short story writing competitions.
Catherine Linka
Catherine Linka is the author of A GIRL CALLED FEARLESS, winner of the SCIBA Young Adult Novel Award 2014, and the forthcoming sequel, A GIRL UNDONE. The series is currently in development for television. Catherine received her MFA in Writing from Vermont College of Fine Arts, and worked as a buyer for an indie bookstore where she read and evaluated hundreds of young adult novels.
Robin Lithgow
Robin Lithgow was the Administrative Coordinator of the Arts Education Branch of the Los Angeles Unified School District for 14 years. She was a principal designer of the Artists in Schools program, placing dance, music and visual arts teachers in LAUSD elementary schools. Robin has served on the College Board's Advisory Committee for the Arts. She is currently researching the humanist education of the Elizabethan Age, which produced William Shakespeare and dozens of others of the Golden Age. She believes, quite simply, that the arts are the best way to teach all things.
Jervey Tervalon
Jervey Tervalon is the author of Monster's Chef: A Novel, All the Trouble You Need, Understand This — a Quality Paper Books Club Award-winner, and the Los Angeles Times bestseller Dead Above Ground. An award-winning poet, screenwriter, and dramatist, Jervey was born in New Orleans, and raised in Los Angeles. He is the Founder and Director of the litjournal and educational resource, Literature for Life, and the Creative Director of LitFest Pasadena. He got his MFA in Creative Writing from UC Irvine.
Tickets: $10 online at www.Sci-FestLA.com
$15 at the door
Please note: All box office proceeds (and any additional donations received that day)
will be awarded to the winner's high school science department.
Please consider bringing an additional check made out to "Sci-Fest LA" with "Tomorrow Prize" in the memo line.
4: 00 PM Saturday, May 16th
Acme Theatre West
135 N. LaBrea Avenue (S. of Beverly)
Hollywood, CA 90036
Click on the TICKET link at: www.Sci-FestLA.com