I'm not one to usually consider myself part of a "community."  I prefer to be free of "group-think" so I can make an ass out of myself and then join in with the finger pointing and laughter.  A socially independent contractor.
But this week I was proud to be a part of the anime community, joining twenty or so other voiceover actors last Thursday night for a fundraiser.  In fact, it was one of "our own" who helped make it all happen.
Stephanie Sheh is an actress and voiceover artist who also writes for and directs voiceover (we met on "Resident Evil: The Darkside Chronicles") On Saturday, the day after the horrific tsunami and earthquake in Japan, Stephanie wanted to put together a fundraiser. She called her friend Pinguino Kolb (comic book artist, designer and photographer) and brainstormed ideas. The result was We Heart Japan.
The first fundraiser was a raffle, auction and voice actor "meet and greet."  When I saw she was putting this together I asked to be a part of it and also asked if I could shoot some video. For those of you who follow this blog, yes, it was the same camera I used for my NOH8 video… And I still battled my confusion over red light/green light (made more confusing with the Arta tequila that was on hand). However, I did at least capture the general vibe.
The line-up of voice actors would be any anime con's dream come true. Liam O'Brien (who directed me in Resident Evil 5 and I battled in Nier), Sam Riegel (who also makes some hysterical music videos), the wonderful Wendee Lee, Richard Epcar (who I swear is a real life hero pretending to be an actor), the awesome Mary Elizabeth McGlynn, Troy Baker (who guided me through my first con and I also think is a real life anime character pretending to be an actor) the young "voice over power couple" of Yuri Lowenthal and Tara Platt (who wrote the excellent Voice-Over Voice Actor: What It's Like Behind The Mic), and many more!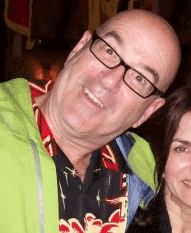 Plus, there was a surpise guest – Michael Sorich.  And in my case, a real surprise!  I met Michael back in 1987.  I needed to put together my first voiceover demo reel and my agent at the time hooked me up with him.  He was funny and great to work with.  Flash forward eight years and we both end up in a Playboy show together!  (Yes, this is where I should put in a raunchy joke, but I'm trying to keep the word count down.)  Michael is just one of those guys that makes you smile, laugh and feel good about life.  That is why he must be destroyed.  Huh?  Sorry, wrong blog.
The event was only three hours long, but the amount of work that went into it was remarkable (I arrived early to watch the backstage mayhem).  Their efforts were all the more remarkable when I realized they put it together in just five days!
So, I edited a quick video for those of you who wanted to be there but were too far away or too Irish to come (it was St. Patty's Day after all).  If you like it, please pass it on to your anime friends, link it on FaceBook – Digg, Stumble, and roll around with it.
And please donate to your preferred charity or through JCIE.  (And cell-phone prisoners can just text "REDCROSS" to 90999 to donate $10.)
WE HEART JAPAN:
Sponsors:
Arta Tequila, Bandai Entertainment, Comikaze Expo, Crunchyroll, deviantART, Geneon Entertainment, FUNimation, Harmony Gold Meltdown Comics, Nan Desu Kan,NYAV Post, Pacific Media Expo
With Generous contributions from:
AM2, Celebrity Vault, Cosplay in America, Disney, Gamers United, H2Om Water, Kuro Uzu, Love the Truth Clothing, Right Stuf International, Sweet Streets LA, Aniplex America
And Thanks to our ARTISTS
Shinichi "Nabeshin" Watanabe
Heidi Arnhold
Sam Randazzo
Cathy Clark
Alexandria Hoevel
Sawdust Bear
Jo Ann Faustino
David Mertl
Pinguino
Olivia Scheibe
Jason Leung
Zane DeGaine
Ryan Tumaliuan
Dekker Dreyer
Patrick Smith
Geoffrey Golden
Shibuya Girls Pop
Kevissimo
Aaron Bjork
Eron Rauch
Rachael Faught
Sasha Palacio
Sara Tea
Diana Shin
Leslie Levings
Sia Aryai
Krook Martinez
Raymond Francisco
Elizabeth Lee
The list of anime voice actors include Michael Sorich (Biohazard: Degeneration), Yuri Lowenthal (Paprika), Tara Platt (Naruto: Shippûden), Lex Lang (Ghost in the Shell 2.0), DC Douglas (Resident Evil 5), Crispin Freeman (Hellsing), Wendee Lee (Cowboy Bebop: The Movie), Melanie MacQueen (Robotech: The Shadow Chronicles), Mary Elizabeth McGlynn (Princess Mononoke), Daran Norris (Street Fighter), Michelle Ruff (Digimon: Digital Monsters), Troy Baker (Bleach), Laura Bailey (Fullmetal Alchemist Brotherhood), JB Blanc (Naruto: Shippûden), Liam O'brien (Planet Hulk), Sam Riegel (Naruto), Travis Willingham (Mushi-Shi), Richard Epcar (Blue Dragon), Tony Oliver (Aa! Megamisama! The Movie), Stephanie Sheh (Bleach), Ellyn Stern (Noein: Mô hitori no kimi he), Cristina Vee (Keion!) and Tommy Yune (Robotech)