Online reaction to Peyton Waukau's defamation campaign after I made it public on my accounts.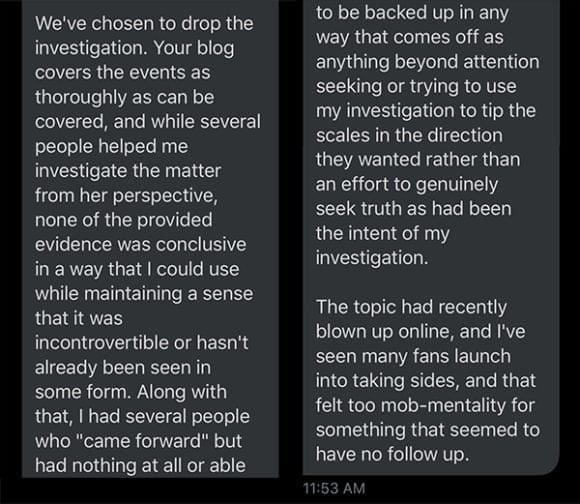 Transcribed
Transcribed
Conner
ts this the same girt who was creating multiple new accounts on Tumbtr two years back?
Victor
Oh, it's her again. 0 One day maybe she wilt just give up. This bullshit is getting realty old,
UmbreflaOSpecter
Yes this person is his stalker. She makes multiple accounts and actually messages girls that DC is friends with and asks if they have relationships
and shit with him. It's creepy and unsettlfng.., She needs help.
Brad Duot Tape Hale
Yeah shes a repeat stalker and has caused loads of drama in the con community. avoid at alt costs
Karfssa
l've never met this bitch, no one has ever had a bad thing to say about D.C. at any convention l've been to or worked at~ and Pm the type that not only wont sweep
something like that under the rug – I' II go kick their ass myself @ @ It's been a wild past few days
Grey
The idea that you'd ever be sexually inappropriate or even
slightly creepy towards women is hilarious to me.
Laurie
just went and did a scroll through on her !G. Wow. That's alt ! got. Pm sorry this is what you're dealing with. l've got your back. Iii|ii! U miss you!
We've chosen to drop the investigation. Your biog covers the events as thoroughly as can be covered, and while several people helped me investigate the matter from her perspective, none of the provided evidence was conclusive in a way that i could use while maintaining a sense that it was incontrovertible or hasn't already been seen in some form. Along with that, i had several people who "came forward" but had nothing at all or able to be backed up in any way that comes off as anything beyond attention seeking or trying to use my investigation to tip the scales in the direction they wanted rather than an effort to genuinely seek truth as had been the intent of my investigation.
The topic had recently blown up online~ and l've seen many fans launch into taking sides, and that felt too mob-mentality for something that seemed to have no follow up.