As I write this I can still taste a hint of polyester, leather and sweaty sole – commonly known as my foot – in my mouth.  I inadvertently ate it the day I met Peter Cullen. Let me elaborate so as to publicly shame myself in front of both the voiceover community and Transformers fans.
I am part of a wonderful mentoring program in Downtown Los Angeles (Youth Mentoring Connection). My mentee is an awesome 12 year old kid who, strangely enough, likes cartoons, video games and blockbuster films with huge explosions. Go figure. He's dying to see Transformers: Dark of the Moon. I also happen to know some of the good folks behind the Transformers Convention – BotCon – and was able to get us into the event. This, I believe, makes me a kick-ass mentor. (Having shirts made next week.)
We spent the first part of the day in the exhibitor's hall. Then we were lucky enough to get a backstage pass for a live reading of a Transformers Prime episode! Now, I don't know any of the cast of that show personally, except for the über talented Steve Blum (who you can watch throw me into the ocean here), so  I thought it best to sit next to him before the whole cast went onstage – and so my mentee could have a one-on-one conversation with Starscream!
What I really wanted to do was go up to the incredible Peter Cullen and pay my respects, but I still battle the shy gene (thanks, Hathaway DNA).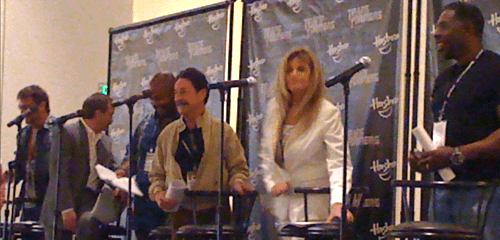 Then it was time for the live reading, which, in addition to Peter Cullen and Steve Blum, included Josh Keaton, Kevin Michael Richardson, Jeffrey Combs, Markie Post (from Night Court!) Ernie Hudson (who inserted some hysterical "Ghostbusters" references), Andy Pessoa, and the stupendous Tania Gunadi. It was a very funny 30 minutes.
After a great reading (man, I envy their gig!) my mentee wanted to go to the autograph session. First, we saw Steve Blum again and my mentee got his signature (one day I'll write more about Steve as he's such a nice, amazingly talented artist).
Then we were lucky to get into Peter Cullen's line. Now, for those of you asking yourselves who Peter Cullen is, all you need to know is that the man is a freaking legend in the voiceover business – from "The Smothers Brothers Comedy Hour" to Hanna-Barbera — he was the first voice for Mario of Nintendo's "Super Mario Brothers," for crying out loud!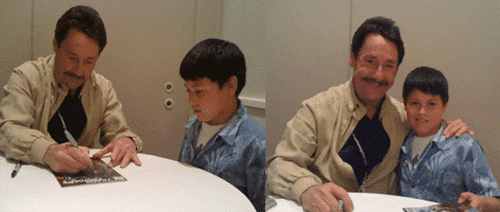 So, we're brought up to meet The Man. As the staff member introduced me as a fellow voiceover artist… time began to slow… In my head I began forming what I wanted to say:
Mr. Cullen, it is an honor to meet you. I envy your sonorous voice and I admire your talent and exceptional career! I'd love to learn your voiceover secrets —
Just then it was time to speak, as we were shaking hands and he had finished saying hello. There was a "your turn" empty spot in the exchange.  I blurted out:
It's an honor to meet you. I'm learning how to do your voice…
Pause the scene. Time to go frame by frame to really savor my panic.
Frame 1: What the hell did I just say?!  I'm not learning how to do his voice!!!
Frame 2: Realization of the implication.
Frame 3: Further breakdown for civilians: When a voiceover guy tries to learn how to impersonate another voiceover guy's character voice, it can be interpreted this way: he's gunning for his job.
Frame 4: Must say something to change implication! NOW!
Resume playback.
Because it's just so calming and wonderful… It's, you know, I just, I find it very soothing to listen to…
At this point I believe he Photoshopped me out of his reality.
In the car, on the way back to my mentee's house, I kept having mini outbursts of "Oh, God, did I really say that?!" Eventually turning into sporadic hand-to-forehead-groans. Then my mentee chimed in.
"Just get over it! Jeeze…"
It was a beautiful moment. A moment Youth Mentoring Connection told me would happen; the moment when my mentee became my mentor.
Of course, a week later, I still had to write a blog post about it in the hopes this sentence "D.C. Douglas apologizes to Optimus Prime" would get picked up by Google and delivered to Mr. Cullen one day.   A way of scraping the "foot sheen" off my tongue…
So, Google!  "Roll out!"