A few years after the turn of the century (I love that I can open a blog post with that phrase) I was booked by a studio for my first anime dubbing work. It's also where I met the warm and salty Richard Epcar, who was directing. It was for "Hajime no ippo" voicing Genji Kamogawa the first season. At the time, I had no idea it was a series nor that I was voicing multiple episodes in a session. I just thought, "Damn, this is a long movie."
During this same time I dubbed "Kyo Kara Maoh! (God, Save Our King)" as Shori Shibuya for another studio. Again, had no idea it was a series!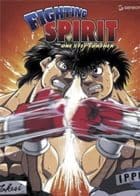 After many Genji sessions (including one for "Hajime no ippo – Champion road" but voicing Sanada Kazuki instead) it came to an end. Mind you, anime dubbing paid very little then (it's a little better these days). So, a year later, when they called to book me for more episodes, I declined.
The producer was flabbergasted. "You're a series regular!"
I thought, "What?" and then blurted out, "That was a series?!"
That's when the my healthy ego turned type-2 diabetic – you're making way better money with commercials and on-camera work blah blah blah.  I decided to write off all dubbing work from that point forward. I said "no thanks" to several lovely anime dub directors around town after that.
… Then a decade later I discovered ANIME CONS and the FANS!
I started doing these conventions and wondered, "Why don't I have any anime credits like everyone else? Is Texas the only place they reco- OH SHIT!"
What had I done?! Wish I had known about them then. I would have said yes to all anime gigs in LA. Who knows, I might've become another Troy Baker. (Though, if I'm honest with myself, I'd look silly dressing that well. There's no room for coolness amongst all my crocs-worthy self-deprecation.)
Anyhoo, I immediately began reaching out to all those directors I declined years earlier. I learned that most of the anime work had dried up in LA. And, yes, Funimation was the place to be.
But, luckily, Joel McDonald came to the rescue! We met at Youmacon through an introduction via the huggable Ian Sinclair. I downed my drink (and pride) and begged him to put me on a Funimation show. After rubbing hot oil on his naked backside for 3 hours, he relented (that part may be a lie).
Joel cast me in 4 episodes of Funimation's "Once Piece" as X Drake – a truly badass pirate/dinosaur! There's more to come with X Drake, but there could be 2586 episodes before then…
Then more luck!  The rock Goddess, Mary Elizabeth McGlynn, responded to my plea by casting me in a small role as the semi "undead" Gari on "Naruto: Shippûden!" for 4 episodes.
Recently, I reconnected with Bang Zoom Studios in Los Angeles. I had worked with them back in the early ots (yeah, you heard me) on several ".hack" games.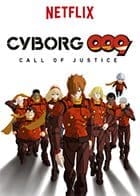 I sent an email to Mami Okada and she remembered me! Since then, I've done a few more anime shows. In addition to a few random characters in a "Durarara!!x2" episode, you can also hear me as Dr. Kitamura in the "Future" episode of "Boku dake ga inai machi (Erased)."
I followed that with a larger role at Bang Zoom –  directed by an old voiceover friend, Michael McConnohie (an industry gentleman)! You can watch that one now. "Cyborg 009: Call of Justice" arrived on Netflix this month. I play Professor in 3 episodes, though my last episode is the one where I appear fully… Naked.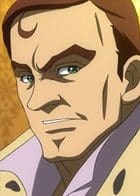 Coming in about two months will be my episodes of "Kidou Senshi Gundam: Tekketsu no Orphans (Mobile Suit Gundam: Iron-Blooded Orphans)" where I play Jasley Donomikols, another badass with a broken moral compass, in a seven episode arc.
Directed by real life badass, Lex Lang, Jasley is by far the meatiest of my new anime roles (the Superman hair curl is perfection) and I'm grateful Bang Zoom has given me these new opportunities!
Hopefully these credits will add to my sexy desirability as a con guest. 😌💃👸🏻Regardless, it's nice to be acting in things the fans (that I'm lucky enough to have) also care about – anime.
In addition to the anime, a few new JRPGs are coming out! Listen for me as Pod 042 in "NieR: Automata" next month and in a smaller, fun role in "Persona 5" April 4th. I also have a small part in "Ace Combat 7: Skies Unknown" but the release date is like the title – still unknown.
[Full anime/RPG voiceover credits are on my
Con Booking page
.]