Yesterday, I had my picture taken with 100 or so strangers.  My second time.  What the hell does that have to do with being an actor in Los Angeles, you ask?  (And dude, why the attitude?)  Well, that will require some back story.  But hang in there, it'll make sense.
Let's start with the basics.  Since I was seven years old, I knew I wanted to be an actor.  Since I was 19 years old, I knew I wanted to live in Laurel Canyon.  But wait, that requires some back story, too.
See, I was born in Berkeley, California two years before the Summer of Love.  My mother had so many macramé hanging ferns and Persian throw rugs in our small apartment that we could've been running a health food store.  Through the years, I nurtured a fondness for paisley shirts, sandals and The Beatles… Yeah, I was very popular in high school (and the little boy inside me curls up into the fetal position).
So when I moved to L.A., I tried to find an area that reminded me of the San Francisco Bay Area.  I saw shades of it in Silverlake, but my car had been broken into twice there, so living there didn't tickle my fancy… And, no, I don't have a strange fancy-tickle fetish.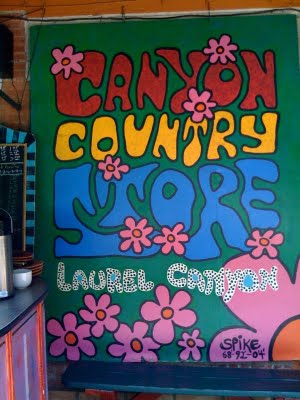 Then one day, I was told about a short cut from the Valley into Hollywood via Laurel Canyon Blvd.  Wow.  I was confounded by all that nature packed between the asphalt flats.  How could this exist in Los Angeles?  And I was especially taken with the quaint Canyon Country Store – the ONLY store between Studio City and Hollywood.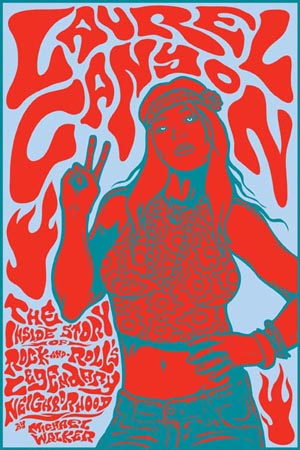 Through osmosis and a healthy appetite for our local commie rag, The LA Weekly, I learned about the rich history of this place (movie stars, rock stars, drugs and John Holmes).  For an in depth look, check out Laurel Canyon: The Inside Story of Rock and Roll's Legendary Neighborhood by Michael Walker (it's truly amazing).  But here's a nutshell history (paraphrased from the Laurel Canyon Association website… Yes, more back story — going back 200 years!):
The Tongva Native Americans were the earliest inhabitants, living at the base of Laurel Canyon, roughly around the Chevron station at Sunset and Laurel Canyon.

At the dawn of the 20th century, land developer Charles Spencer Mann and his partners bought property along Laurel Canyon Boulevard and up in the hills.

With the birth of the Hollywood film industry in 1910, the canyon attracted a host of "photoplayers", including Clara Bow, Norman Kerry, Harry Houdini and Errol Flynn.

While lavish homes were built by Hollywood's new movie star elite, the majority of homes built in the shadows of the canyon were more modest and cabin-like.

In the 1940's, the canyon was connected to the Valley with an over-mountain highway.

Laurel Canyon was second only to Haight-Ashbury as a Mecca for Hippies in the 60's and 70's. This is where Joni Mitchell was living when she wrote "Ladies Of The Canyon". Other rock stars included Frank Zappa, John Mayall, Carole King, Jim Morrison (whose "Love Street" was about the Canyon Country Store "scene"), and many others. The 2002 film Laurel Canyon is an homage to this legacy.
Flash forward twenty-two years from my arrival in Los Angeles.  Thanks to two great GEICO voiceover campaigns, I was able to realize my dream.  We bought a fixer-upper below market value (during the month when mortgage banks imploded) and proceeded to turn it into our Laurel Lair! (The song "Our House" is about Joni Mitchell and Graham Nash's Laurel Canyon home — and the tune that kept playing in – and soothing – my mind while I wrote many painful renovation checks!)
Across the street we can see Fay Wray's old house.  Several houses up from us is David Letterman's old house and the street behind us is where Tommy Lee Jones lived when he first came to Los Angeles.  We've had many squirrels, coyote, deer, a buck (with huge antlers!), and even a bobcat (having a late night stare-down contest with our indoor cat) all traipse through our yard, yet the Sunset Strip and all it's chaotic/poseur fun is just three minutes down the street!
There's an interesting mix of people in the canyon these days; older hippies (who probably bought their homes for $30,000 in 1970), yuppies (who paid up to 30 times that in 2005!), and gen-Y hipsters (renting from the yuppies).
But all those labels become irrelevant on the annual Photo Day;  a day when Laurel Canyon residents come down to the Canyon Country Store (a stone's throw from Jim Morrison's place) and pose for a neighborhood photo.  This tradition dates back to the late 1980's and is a unique  "small town" experience in the 8th largest city of the world…  And it's also the ultimate reason for writing this particular post. (See?  It's all starting to come together!)
So, dear friends, without further ado, here's a taste of that experience (and a glimpse at our garden).  My video diary of the Laurel Canyon Photo Day of 2009 at the Canyon Country Store:
"I see you live on Love Street.  There's this store where the creatures meet."
– Jim Morrison, singing about the Canyon Country Store.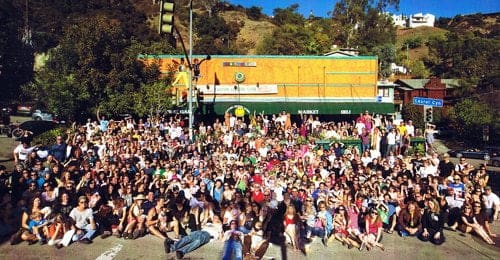 (I wish I got more of the musician's names, because they were very cool.)
In that crowd were other actors like myself, and some voiceover actors who have their own home studios, as well.  But no one cares.  That's the beauty of the Canyon Country Store – labels are secondary to good intentions and conversation.  Most of the hippies have gone, but the good vibes do linger in the creases of the canyon.  (This is the paragraph where I justify writing about my neighborhood for a Hollywood industry blog…  How'd I do?)
What is even more remarkable about the canyon is the amount of actors, artists, writers and musicians who have lived and currently live here (see list below). Remarkable, because Laurel Canyon is not like Bel Air, Beverly Hills or Malibu.  It retains the rustic charm and feel of a community far removed from Botox, breast implants and tinsel-desperation.  Sadly, there are the occasional parties with scene-sters and "play-ahs" burning rubber to mask their impotence.
I just let out a "I'm-turning-into-my-father" sigh, wait for the little punks to drive on, then continue sipping my wine and listening to the crickets… Yes, crickets in L.A.!
Now for some back story on crickets… 😉
[column width="45%" padding="5%"]
CURRENT RESIDENTS:
(according to Wikipedia)
Jensen Ackles
Christina Applegate
Zach Braff
Danny Carey
Stephen Christian
George Clooney
Rob Dyrdek
Eliza Dushku
Geoff Emerick
Will Ferrell
John Frusciante
Esther Galil
Katherine Helmond
Maya Asztinx
Anthony Kiedis
K.D. Lang
Jenny Lewis
[/column] [column width="45%" padding="5%"] Josh Lucas
Joel Madden
Alicia Silverstone
Tom Morello
Mackie Osborne
Adam Pascal
Jonathan Rice
Nicole Richie
Meg Ryan
Matt Sorum
Justin Timberlake
Ian Thorpe
Pete Wentz
Chuck Wright
[/column] [end_columns] [column width="45%" padding="5%"]
PAST RESIDENTS:
Jennifer Aniston, early-mid 1990s
Mary Astor, 1920s
Clara Bow, 1920s
Louise Brooks, 1927-28
Jerry Brown, 1970s.
Eric Burdon, 1970s
Neve Campbell, 1996-2000
Adam Carolla, 1980s
David Carradine 1970s
Chuck Connors, 1950s
Alice Cooper, 1971-1976
David Crosby, 1960's
Denny Doherty, 1960s
Micky Dolenz, 1960s
Troy Donahue, early 1960s
Cass Elliot, 1960s
Fabian, 1960s
Kim Fowley, 1970's
Errol Flynn, early to mid 1950s
Abigail Folger and Wojciech Frykowski, 1968-1969
Glenn Frey, 1970's
Roman Gabriel, 1970s
Jackson Browne, 1960s-70s
Robert A. Heinlein, 1940s
Jimi Hendrix, summer 1968
Chris Hillman, 1960s
Harry Houdini, 1919-1921
Jim Hutton, 1970s
Boris Karloff, 1930s
Carole King, 1970's-90's
[/column] [column width="45%" padding="5%"] C. M. Kornbluth, 1940s
Robby Krieger, 1960's-70's
Timothy Leary, 1990's
Bessie Love, 1920's
Béla Lugosi
Sue Lyon, 1960s
Ray Manzarek, 1970's
Steve Martin, late 1960s
Bob Masse, late 1960s
John Mayall, 1969-1979
Mark McGrath, present
Roger McGuinn, 1960's
Joni Mitchell, 1960's- 1970s
Robert Mitchum, 1940s-'60s
Tom Mix, 1920's
Jim Morrison, late 1960s
Graham Nash, 1960's- 70's
Gram Parsons, early-1970s
Iggy Pop, 1970s
Trent Reznor, 1995-1997
Keith Richards, 1970s
The Rolling Stones, 1970s
Slash, 1976-mid-'80s
Dusty Springfield, 1970s
John Taylor, 1995-1998
Peter Tork, mid 1960s
Orson Welles, late 1970s.
Brian Wilson, 1960s
Neil Young, late 1960s
Frank Zappa, 1968-1993
And many more…
[/column] [end_columns]