You never forget your "firsts." First kiss. First love. First venereal disease. But as we get older, sometimes we get complacent and lazy – we narrow our opportunity for "firsts."  Unless, of course, you chose the schizophrenic career of an actor.
2012 was the first time I was a series regular on a cartoon.  First time I was an actual Transformer! And the first time I had to be careful with profanity on my Facebook Fan Page. (Side note:  I'm still not a role model.)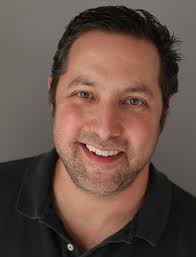 I owe this first to several people; my agent, Sandie Schnarr, the casting director, Ginny McSwain, the producers, Therese Trujillo & Brian Hohlfeld.  But, ultimately, I owe the man with the final word, Mr. Big Cheese – executive producer, Jeff Kline.
Jeff is an ingratiating combination of humor, creativity, pragmatism and warmth.  (In other words, he doesn't live in Los Angeles.)  Check out his IMDB and see how prevalent he is in the cartoon world.  And I'll always remember him as the first person to give me herpes… Wait, no, a series regular role on a cartoon.
I recorded 26 episodes of "Transformers: Rescue Bots" throughout 2011 with an amazing cast.  Fellow cartoon newcomers Parvesh Cheena, Imari Williams and Shannon Mckain helped to foster a more "theatre cast" feeling – a non-competitive camaraderie with inappropriate humor and cursing.
Parvesh included me in a film short he and his boyfriend were filming.  Shannon became a regular in my weekly home poker game (unfortunately – he's too damn good), and Imari keeps holding out hope to us for a karaoke night.
The cartoon veterans were a treat to watch: Maurice LaMarche (thanks for the accountant advice), Steve Blum (thanks for the convention advice), Jason Marsden (thanks for the herpes advice… sorry, must come in 3s!), Lacey Chabert (thanks for giving me twitter cachet by "following" me), LeVar Burton (thanks for your kindness and humor), and Jeff Bennett (still waiting for you to transfer your Zeus-like VO talents to me).
And, of course, the kids – Diamond White & Elan Garfias, were talented beyond their years.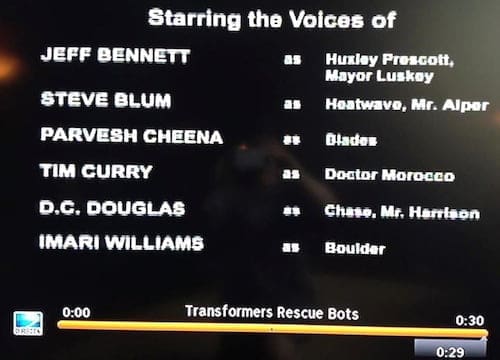 And the guest stars? Such a treat to watch the talented Kath Soucie work!
Sadly, though, I wasn't at the studio when my acting idol, Tim Curry, recorded his Dr. Morocco episodes.  But being credited alphabetically next to him was a pretty sweet consolation gift.
What started as a "Dragnet" vocal outline for a character became a nuanced officious tool by seasons' end, and I have to thank all the writers of "Transformers: Rescue Bots" for a big part of that!  Brian Hohlfeld, Nicole Dubuc, Greg Johnson,  Steve Aranguren, Dean Stefan, Christopher J. Gentile, Luke McMullen, Ken Pontac, Warren Graff, Ed Valentine, Maighread Scott, Tom Pugsley, Catherine Clinch, and Marty Isenberg.
At the first recording session I worried I would be limited in what I could do with the voice of Chase.  But these writers broadened my character's arc over the 26 episodes.  Between their words and the freakin' amazing Ginny McSwain voice direction, I ended up in a very fun "vocal place."
There are so many kinds of acting careers.  Some stay in one area of the industry, some combine several niches.  Some achieve major success and work in all the areas they want.  I've been lucky enough to make my living between commercial & videogame voiceovers, television sitcoms and episodics, and the occasional low budget indie film.  And in 2011-2012, I added cartoons!
I'm honored that Jeff Kline & his production family asked me to join "Transformers: Rescue Bots."  The show was a hit on The Hub, received great reviews, high ratings and the Hasbro toy line sold well.  Now that our first season has finished airing, we await word on whether or not we'll be back for a season two.  I hope we'll be back.
But if we're not, that was an awesome ride, Jeff!  Thank you!
UPDATE
Just received word we have a second season!  Huzzah!
*  *  *
[This is part of a series – Love Letters:
Love Letter To My GEICO Campaign
Love Letter To Kohan And Mutchnick
Love Letter To Dava Waite Peaslee
Love Letter To Eric Cotsen
Love Letter To Dorian Dunas
Love Letter To Green Screen]