I am Zero. And I am so very happy about it.
But first, let's get you guys updated on a couple other games. It's hard to remember when games I've recorded get released because many times us actors are given "project" names and NDAs. Add to that those weeks where we record many games, it gets hard to keep track and brain farts abound.
Apparently Summer 2016 was a good time for people who like my voice!
The first release this month was Lego Star Wars: The Force Awakens! This isn't my first Star Wars game…
… but it is my first LEGO Star Wars game! I play a rather prickly medic droid called 2Med2 (or so it said in the script) and I help you navigate a certain area of the game. I also voice matched Simon Pegg for a line he was unavailable to come in and record, but that's just between me and you 43 readers.

If you have some little ones (or are one yourself, like me) get this game!

Then I discovered that Mirror's Edge: Catalyst had been released early last month. I play the voice of KrugerSec 1 guard as well as three or so very different commercial VO's that you hear coming from the electronic billboards in the city. I had a lot of fun with those. I admit, nothing to brag about, except the game is so beautiful that I have to mention it.
Of course, we all know about the rise of Albert Wesker in Umbrella Corps (I also provide the main player voice). You can read about the canonical confusion here.
But this post is really about my delicious new role in Zero Escape: Zero Time Dilemma (the third and final in the Zero Escape series). It was released this month to rave reviews!
For those who don't know what it is:
The game's genre is a mix of psychological horror, mystery, suspense and thriller. The story also contains major science-fiction elements, preventing it from being a realistic murder mystery. The gameplay is a mix of escape-the-room and puzzle.

The story primarily follows three people: a nurse named Diana, a firefighter named Carlos, and a boy with a spherical helmet named Q. The three protagonists are trapped in a facility along with six other participants. The nine are forced to participate in the Decision Game, a deadly game which involves bracelets that inject them with a drug every 90 minutes which induces memory loss, killing 6 out of the 9 players, exploring the facility and solving escape-the-room puzzles in order to survive and escape, and figuring out the truth behind the game and Zero's identity.
– zeroescape.wikia.com
Now, it may not seem like it at first, but Albert Wesker fans will love my character in it! There are so many parallels in dialogue and character that it's almost an alternate reality version of him. And there's plenty of dark, twisted dialogue. You may find it hard to recognize my voice as it's hidden in effects and pitched down a bit, but you'll recognize my rhythm (especially those who've seen me at a rave and my ex-lovers).
I recorded Zero at PCB Productions in the valley and directed by the lovely Valerie Arem (imagine Susan Sarandon and you're close). Like Cup Of Tea Productions, I am very grateful to PCB. They have cast me in many games these last two years. Some of which are yet to come out (and a couple really cool roles, to boot).
In it's first week it's garnered an 83 on Metacritic and a 9.2/10 on IGN.
My time with Zero Time Dilemma was one of great pleasure and anguish, mainly because I knew I was saying goodbye to one of my favorite series. This final chapter brings the beloved Zero Escape trilogy to a gratifying end, featuring beautiful character moments, elaborate puzzles, and a mind-bending plot. Not many games will keep me glued to the screen like Zero Time Dilemma did, and despite its minor graphical flaws, it will remain a gem in the 3DS and Vita libraries.
– Michael Koczwara, IGN
"Life is simply… Unfair. Don't you think?"
You know a game and a character have hit the bullseye in the collective gaming community psyche when memes show up. I'm happy to say people have been sending me some…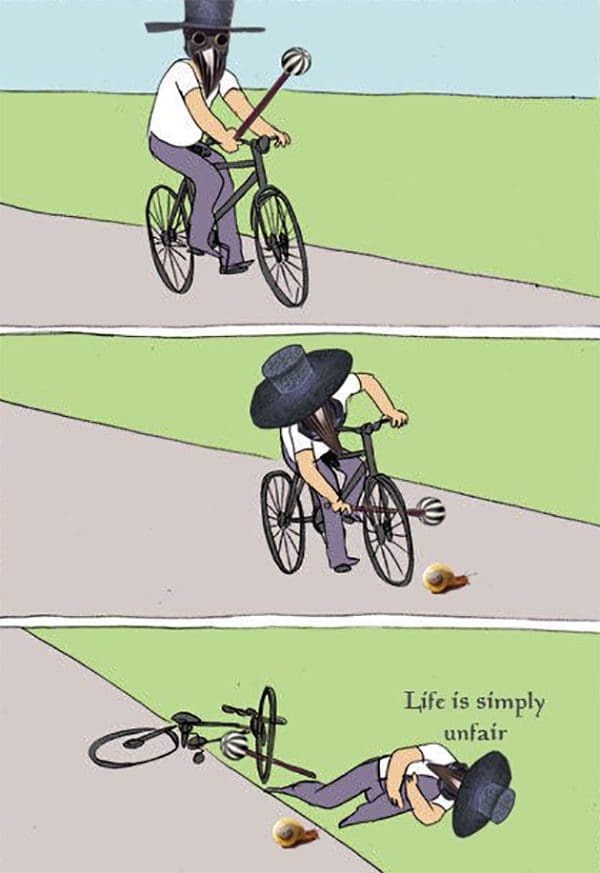 Which has led me to create a more D.C. Douglas career-centric one. Enjoy and share: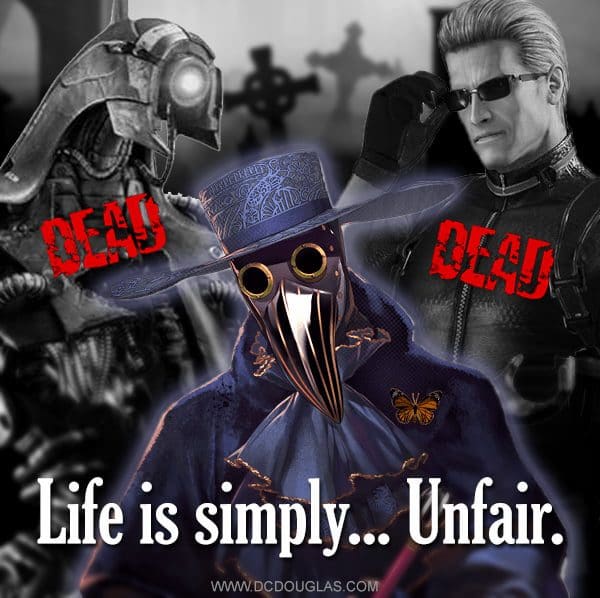 I have more games coming out later this year, as well as a SyFy movie I'm jazzed about, so stay tuned.
In the meantime!
I need your help! If you see ANY video clips of my characters from ANY of these games on YouTube, pretty please tweet or post a link on my Facebook page! I love to add samples of my work to this website so you can enjoy a library of them. (Just checkout my playlists!)
Again, I'm looking for video of my roles in any of these games:
✓ Umbrella Corps (Player and Wesker)
✓ Lego Star Wars: The Force Awakens (2Med2 droid)
✓ Mirror's Edge: Catalyst (Krugesec Guard/Billboard commercials)
✓ Zero Escape: Zero Time Dilemma (Zero, baby!)