Before I embark on my Summer of D.C. Tour 2012 I thought I'd catch you up on my latest TV adventures!
Last week I had a same day audition over at Julie Ashton's office (one of the nicest casting offices in town) for a new show called "Sullivan & Son" for TBS. Was cast by 6:00 that night and on set 12 hours later. The best kind of audition!
What made this gig a little surreal was that it was cast by the same office that cast me in "2 Broke Girls," it was on the same studio lot (Warner Brothers), for a role of a man in a suit who had the authority in the room. My scene was shot on the exact same stage area as "2 Broke Girls" — with me sitting in the same position – facing the same direction!
To add to the surreal, I discovered a Pink Floyd connection with the Warner Brothers lot… (click to see!)
It's a small-ish role, but was a quite fun one for reactions as I essentially watch most of the cast behave like clowns for my pleasure. The show stars the very gracious Steve Byrne. The supporting cast includes Brian Doyle-Murray (hysterical!), Christine Ebersole, Dan Lauria and Jodi Long.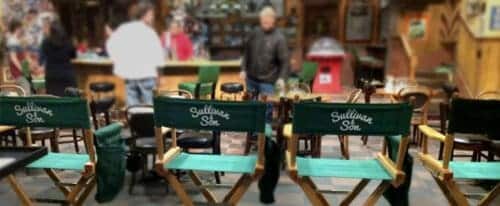 The guest star was Will Sasso from "MadTV" and "The Three Stooges" film. He was hysterical on-camera but even funnier off-camera when he and the shows executive producer, Rob Long, would get into silly "bottom" games during show notes. It should be noted that Vince Vaughn is the other executive producer. The show premieres on TBS July 19th and my episode should be around August 30th or sometime in September.
A few Sundays ago I was on TV twice in one evening. First, on the most recent gig I filmed, "Workaholics." (You can read about the experience here.)
https://www.youtube.com/watch?v=UQo3jBJCcVg
Then, on TNT's "Franklin & Bash," my first tv gig with my new agent – which was filmed over a year ago. Nothing too exciting as I was just trying to revive a crusty old resume… So, a 2 line role was whittled down to 1 line. (Read about the cutting room floor process.)
I now head off to Miami, Louisville, Houston and Orlando over the next 6 weeks! I hope to write about my con experiences as well as my film shoot in Texas… I hope to. But I may just opt for sleeping, instead. 😉
* * *
If you'd like updates, follow me on the best "yelling in a crowded room" forum there is – twitter – or on Facebook for the more selective anecdotes.